Our work in Teaching, Learning and Leadership journey's foundation is in providing valuable time during the school day to build a COMMON instructional and professional language, with:
Modified Block Schedule & Professional Learning Communities (PLC)
Our investment priorities continue to be in building a sustainable number of employees who are well trained and providing the modified block schedule. The Master Schedule has afforded us an opportunity to provide 90 minutes Monday, Tuesday, Thursday and Friday to engage in collaboration and reflection on goals. We intentionally provide 45 minutes for planning and 45 minutes for PLC collaboration. Additionally, each Wednesday we release our students early
and have 3 hours to continue our work. Each year our PLC opportunities total over 300 hours during the instructional day.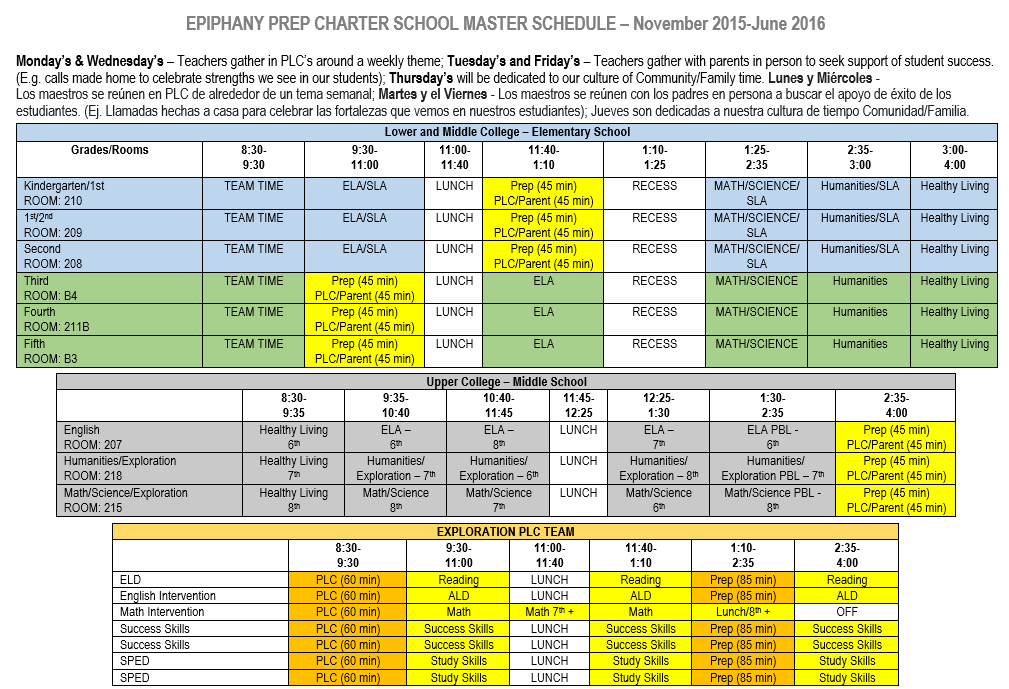 Early Release Wednesdays TEACHER Professional Development TIME: Another critical system in place is the "check in" we have committed with our fellow teachers and support staff on Wednesday afternoons. Up to 12 hours each month are committed during the Early Release Wednesdays to provide purposeful Professional Development around our four themes, led by our teachers and support staff.
Success Skills, Dual Language TIME: As all schools across the country embark on high stakes testing with more attention given to core subjects, here at Epiphany Prep Charter we have maintained a balance approach with thinking about the "whole child." Students access English Language Arts/Humanities, Mathematics and Science. We continue to grow our Dual Language Program each year.
Student, and Parent Support TIME: Each Teacher will have their own students to teach and support. This small learning community provides teachers, parents and support staff an opportunity to engage in discussions about student's strengths and set goals for future success. Teachers ensure that they use quantitative data (e.g. student work, EPCS Benchmarks and i-Ready) to ensure students are pacing at grade level. If we find that students are not meeting their potential or are being celebrated, meetings are held.
Exploration, Support for Fellow Teachers TIME: We are a small teaching community. When life happens to one of us, we feel the impact. In an event that we do not have a substitute to fill in a teacher's classroom, we will lean on our Exploration team to make adjustments to their schedule to ensure our students have a teacher for the day. If we fall short of support during an unexpected event, we will minimize or cancel our scheduled PLC/Prep time to support each other.